Thurs. November 3 7:00Pm, Friday November 4 10:00Am or Saturday November 5 10:00Am
Holiday Projects!
Our annual staff-presented Bernina Club, showing some holiday projects and ideas.
Stay tuned, for more information.
For your planning and for building your Holiday Block:
Thurs. December 1 7:00Pm, Friday December 2 10:00Am or Saturday December 3 10:00Am
Mingle and Jingle Open House
plus Show and Tell and 9-inch Block Exchange
Remember 2014 and 2015? We will do "it" again! Before you come to the December Bernina Club, it will be fun for all if you complete - and bring to the December Club - a pieced or appliquéd finished-9-inch Christmas block (9 1/2 by 9 1/2 includes seam allowance). Bring it, for a chance to win them all! Keep the color a shade of red/green/white/gold!
For example, Some 2015 blocks: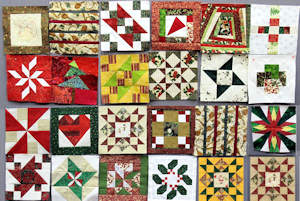 If you send a photo of your completed block to us at:
send mail to: BCDec20169InchCompletedBlock at Bernina World of Sewing Dot Com
We can feature your block on our Website and everyone can see what blocks will be delivered to the store for the drawing at the December 2016 Bernina Club. Thank you, in advance for your participation. (You, or someone representing you, must bring the block and be at Bernina Club December 2016 to participate in the drawing).